God, we worship You and honor You in 2018
  The Kingdom of God is near you!  
"I love you guys! I am always watching over you. I have a wonderful plan for your life. My death on the cross is provided so that you might be forgiven of all sin and live a life of purpose and meaning. Just call out my name. Give me everything. I am right here. --Jesus Christ
Upcoming Events and Announcements
HOLY SPIRIT CONFERENCE!
We are joining with Family Church of Houston for the Holy Spirit Conference of 2018. The dates are September 21-22. On Friday evening, we will leave the church together at 6:00 p.m., as the service begins at 7:00. Saturday morning's meeting is 9:30 - 12:00, so we will leave the church at 8:30 a.m. Saturday also has an evening service at 7:00 p.m. There is child care available; please ask for the details. The guest speaker is Ramin Parsa, a former Muslim from Iran, who now trains disciples through local television and the internet. Come and bring a friend who needs to have a better relationship with the Holy Spirit!
TWO UPCOMING MISSIONS TRIPS FOR YOU
We are planning two missions trips for the coming months, both to Guanajuato, Mexico. The first is September 28 - October 2. This is to help celebrate the Perez's anniversary with Iglesia Rios de Eden. Their new building is not quite finished but we will worship there anyway! There may be cleaning, painting or decorating as we assist them with the celebration. The second trip will be the week immediately following New Year's Day. This will be to help them with a major outreach event to put brand new shoes on the feet of several hundred children in Guanajuato. This event is sponsored by Hands of Grace under the leadership of Rey Perez, Jr. You can call our church at any time for details or speak with Missions Director Mrs. Darla Garza, who is organizing both trips. Please come with us to Mexico! Reach out and help people who are not as fortunate as yourself!
Children in Guanajuato, Mexico receiving new shoes, socks and a family Bible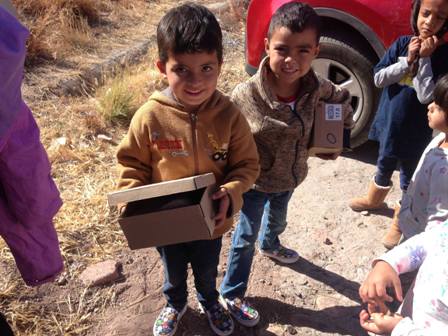 MISSIONARIES OF THE MONTH
This month we are recognizing Doug and Angie Pitman, of RLN Missions. They work primarily in Eastern Europe, with recent emphasis in Germany, Austria and Romania.
They excel at building up the Church and training pastors. Pray for them daily this month and give a financial donation to support them. You may give in any worship service offering or use the online giving button on the right side of this page.
Missionaries Doug and Angie Pitman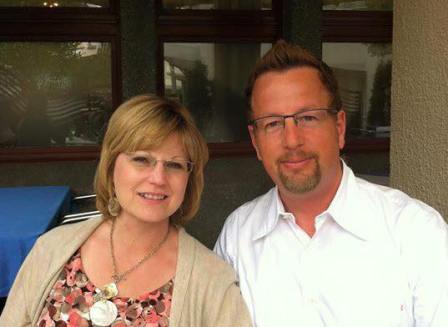 CHURCH INFORMATION: 26029 Aldine Westfield Road, Spring, TX 77373. Phone 281-907-0013.
DIRECTIONS from I-45 in Spring: Turn east on Louetta. After traveling 2 miles, Louetta dead-ends at Aldine Westfield. Turn left on Aldine Westfield. Go 1/8 mile and see non-traditional church building on the left. Or, simply click on the "map" button near the top of this page.
WORSHIP SERVICES: Sundays, 11:00 a.m. and alternating Wednesday events at 7:00 p.m. Call the church office for details.