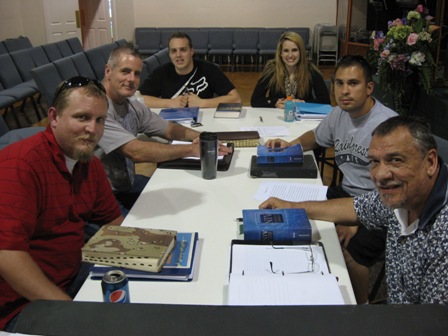 MTS is a two-year course covering the entire Bible, including training for leadership and local church ministry. Upon completion, the student may apply for a ministerial license and ordination through New Beginnings Church.

On Monday, August 24, 2015, at 7:00 p.m., we will begin the 2015 Fall Semester. This semester will cover the first half of the New Testament and include instruction on studying the Bible, homiletics and various leadership functions in the Church. Following is a synopsis of the course. The semester breaks are the best times for prospective students to register. It is critical that each student attend the first session. Call the church office for details, or leave a message on the website's contact page.
Purpose:
To prepare the student for leadership in the Church.
To become better acquainted with the Bible.

To learn the techniques of exegesis and outlining for developing public messages.
To learn leadership strategies and functions.

To learn practical methods for organizing and structuring the local church.

To confirm the call to leadership.
Resources: (listed in importance to this course) A Study Bible in the NIV; internet access; Strong's Exhaustive Concordance of the Bible; Bible encyclopedia, dictionary and handbook; conservative Bible commentaries.
STUDENT REQUIREMENTS: For each of the 4 semesters, you must attend at least 75% of the classes and earn a passing grade. To graduate, you must earn passing grades in each semester. Heavy outside reading and research are required. Opportunities for extra credit and assignments for Christian service will occur during the course. Any occasion of sexual immorality, using alcohol, tobacco or abusing drugs may result in immediate forfeiture of student status. The school fee is $100.00, but the fee is waived for NBC members. Email LSchwanke77@sbcglobal.net for a registration form or register with the church office.